When a statement is true, it is not defamatory
no matter how offensive or embarrassing. . . .
The truth is always a defense to any defamation accusations . . .

Lawsuit filed in San Diego Superior Court
Case # 37.2016.00019244-CU-FR-CTL




Chula Vista Animal Shelter, the shelter she took Sandy to be killed
has given Cate Sacks over 800++ animals

see the list on this page: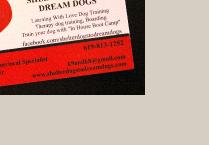 Additionally, public records show two other dogs met the same fate
when Cate Sacks drove them to Chula Vista Animal Care Facility
and "adopted" them, then ordered killed immediately
with rescue coordinator, Linda Septon.
Shelter Dogs To Dream Dogs, an advertised dog "rescue" and a "training" facility.
It's true, Chula Vista Animal Care Facility, and their rescue coordinator,
Linda Septon, along with Cate Sacks decided to kill these three dogs.
They did not hold any of these 3 poor homeless
dogs for the state mandated, required 72 hours. They decided together
to end their lives and toss them out the
back door of the shelter in
a trash bag and a barrel.

California Hayden laws are very clear:

A shelter may not kill an owner-relinquished animal without holding the animal
for the minimum 72 hours that stray cats and dogs must be held under state law
(Food and Agricultural Code section 31754).
That is true regardless of the species of the owner-relinquished animal
and regardless of an owner's expressed wishes that his/her animal be killed.
The Commission decided that the law does not require shelters
to take in owner-relinquished animals but does require shelters to provide
a holding period
if shelters decide to take in owner-relinquished animals.
Shelters have the choice of rejecting owner-relinquished animals
or accepting owner-relinquished animals and holding them for owner-redemption
and adoption for the same period as stray cats and dogs.
Shelters may not kill owner-relinquished animals
before the statutory holding period of 72 hours has elapsed,
with or without the owners' permission.
(Food and Agri-cultural Code section 31754)
Only animals who are irremediably suffering may be humanly euthanized